Once you have your license, this is the quickest way to tie the knot without going to Las Vegas or the courthouse. Marry in a beautiful Victorian home, either inside or outside on the porch. And we provide the witnesses. Same sex friendly. This is a true elopement. Max 4 people
No overnight lodging available Sun night -Fri night
Lets Elope
The Short & Sweet ceremony is just that, short and sweet. Bring your license and marry in the presence of 2 of your family and friends. Gay and Lesbian friendly. Weddings take place in our beautiful Victorian home, either inside in the stained-glass room, outside the porch or in the gardens under the pergola. Additional people can be added. Max- 10 people.
No overnight lodging available Sun night -Fri night
Short and Sweet
Just the Two of Us Vow Renewal 
You know nurturing your relationship is important. Marking your anniversary with a vow renewal is one ways to say to your sweetheart, "I'd marry you again." Just the Two of Us Vow Renewal includes you and your sweetheart, the ceremony, an hour at the inn, and a keepsake ornament.
No overnight lodging available Sun night -Fri night
Vow Renewal
Best Place To Say, "I Do!"

Our services offering Elopements and Small Weddings close to Madison Wisconsin has been noticed.  For the 3rd year in a row at the wheretoelope.com site we were awarded "Best of Where to Elope".
Travel Wisconsin last year indicated the best B&B's to elope at, and we made that list.  The Madison Visitor's Bureau has noted the Hanson House Weddings is the place to elope in the Cambridge area!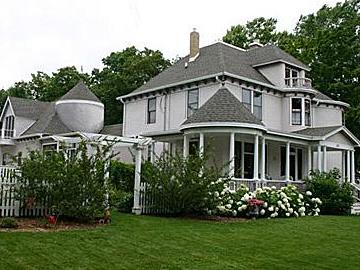 If you're thinking about eloping or getting married with an intimate gathering of family and friends, no need to go to Las Vegas.  Many of our couples find that getting married at a 1883 Victorian is much more romantic.
Based on our availability we can offer the ceremony in the afternoon or evening and many holidays! If you are planning to marry on a Saturday, you can even stay the night.
Let us know if we can help make your elopement memorable. We look forward to helping you with this next step in your relationship.  You'll soon see why Hanson House Weddings is the "Best Place to Say I Do."
What's Next
Check out our packages. Select your add-ons. Reserve your date. Most question are answered in our FAQs and policies.   Still have questions? Use our contact us form.